NuGenius/NuGenius+
NuGenius is a new generation, low cost, integrated imaging system for DNA and protein analysis and gel documentation.
Complete gel documentation workstation
NuGenius is the ultimate in compact gel documentation workstations. Using a choice of UV, blue or white lighting options you can capture and edit images of fluorescent ethidium bromide, SYBR® Safe or GelGreenTM DNA gels and protein gels stained with Coomassie Blue at the workstation. You can even capture stain free gel images using a NuGenius+ which is specially optimised for this application.
For an entry level system, the NuGenius comes with a ground breaking 5 million pixel camera giving superb pixel resolution and unrivalled sensitivity. NuGenius offers a maximum viewing area of 20 x 24cm which is very large for such a small, compact unit.
NuGenius+ has been designed for stain free applications.
Features
Gel imaging at a touch
Compact workstation
Plenty of bench space for your research
Complete with built-in processor, touch screen and NuGenius software
Easily capture and edit images on screen without a computer
Motor driven zoom lens
Automatic set up for easy image capture
5m pixel camera
Resolves close bands and detects nanogram amounts
White, UV and blue lighting options
Flexibility to image fluorescent and visibly stained gels
Stain free imaging capability with the NuGenius+
Capture images of stain free acrylamide gels and many more
Optional networking capability to save images to a private network*
Easily share and store your results
GeneTools software (unlimited copies)
Analyse date on your own computer
*We strongly recommend that:
NuGenius should be connected to a secure, private network (LAN) where all computers are secure, known and trustworthy.
NuGenius should not be assigned a public IP address.
Please note that NuGenius does not currently support DNS name resolution
Specifications
Specifications
| | | |
| --- | --- | --- |
| | NuGenius | NuGenius+ |
| Camera | 5 million pixel | 5 million pixel |
| Sensor | 1/2.5 inch | 2/3 inch |
| Bit depth | 12/16 bit | 12/16 bit |
| Greyscale | 65,536 | 65,536 |
| Dynamic range | 3.6/4.8 (extended) | 3.6/4.8 (extended) |
| Lens | 8 – 48mm f/1.2 | 11.5 – 69mm f/1.4 |
| Viewing area | 20 x 24cm | 20 x 24cm |
| Illumination | | |
| Slim transilluminator 20 x 24cm | Option | Option |
| Blue converter screen 21 x 26cm | Option | Option |
| Visible light converter | Option | Option |
| White epi | Yes | Yes |
| 7 inch touch screen | | |
| Software | | |
| Image capture | Yes | Yes |
| GeneTools analysis | Yes | Yes |
| GeneDirectory | Option | Option |
| Printer | | |
| | P95DW Mitsubishi digital thermal printer | P95DW Mitsubishi digital thermal printer |
| | Canon Selphy | Canon Selphy |
| Paper and ink | K65HM thermal paper, matt | K65HM thermal paper, matt |
| | K91HG thermal paper. glossy | K914HG thermal paper, glossy |
| | Canon KP-1081N | Canon KP-1081N |
| Dimensions | | |
| H x W x D cms | 75 x 31 x 45 | 75 x 31 x 45 |
| Weight | 20kg | 20kg |
Applications
Applications
DNA – with a NuGenius you can use the UV transilluminator to capture images of DNA gels stained with Ethidium Bromide.
AutoRads – the NuGenius 5mp resolution camera is ideal for capturing images requiring high detail. This is especially true when looking for separation between bands and spots. Capturing high quality images of Autorads is one of the strengths of the NuGenius.
Visible light – with the visible light converter, NuGenius can be used to view gels which have been stained with, eg, silver stain and Coomassie blue. You can also view tissues, slides and films.
Blue light – a blue light conversion screen is available for applications requiring blue light excitation, eg, "Safe dyes" such as GFP, SYBR® Green, SYBR Gold, SYBR Safe, SYPRO Ruby, Safe View and Flamingo.
Stain free (with NuGenius+) – stain free technology removes extra steps and long delays from staining with dyes such as Coomassie blue.
These are just some of the applications that can be used with a NuGenius. The Syngene Applications Department is always ready to discuss your particular application needs and how they can be imaged using NuGenius. Please contact support@syngene.com for further information.
Accessories
Accessories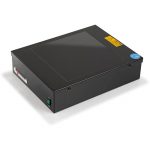 Transilluminator
NuGenius uses a slimline transilluminator. These transilluminators are available in voltages for 230V 50Hz, 230V 60Hz (-E60), 115V 60Hz (-A), 115V 60Hz (-ACA) and 100V 50/60Hz (-J). Available wavelengths are short wave (254nm, 2020S or 2024S), medium wave (302nm, 2020M or 2024M), long wave (365nm, 2020L or 2024L).

Blue light converter screen
This comes in size 21 x 26 cm and is used to change harmful UV into blue light. It is made of scratch resistant plastic and is easy to retrofit onto a UV transilluminator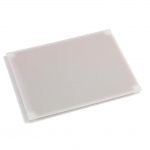 Visible light converter screen
This come in size 23.5cm x 30cm and is used to change UV light into visible light, ideal for imaging Coomassie Blue and Silver Stained gels.

Filter
A 58mm short pass filter is available.

Printer
P95DW Mitsubishi digital thermal printer or Canon Selphy CP1200.
Thermal paper
Available as Matt or Glossy.
UV tubes
Short wave 8W, 254nm, Medium wave 8W, 302nm, Long wave 8W 365nm available.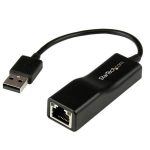 Network connectivity
Dongle available for complete network connectivity.
Guides
NuGenius/NuGenius+ Quick Guides