G:BOX F3
The new generation, entry level G:BOX F3 gel doc system with high resolution camera for all fluorescence requirements.
Versatile high resolution gel doc
An entry level system for imaging fluorescence and visible applications, the G:BOX F3LFB gel doc is the ideal solution for your laboratory.
Using your choice of dyes or stains, the G:BOX F3LFB automatically selects the right lighting and filters to detect close bands on both small and large gels. Choosing white light options for Coomassie Blue, UV and blue lighting options, ethidium bromide or SYBR® Safe gels, this system is the ultimate in gel doc flexibility.
The stylish and modular designed G:BOX F3LFB gel doc system includes a high resolution 5m pixel camera which is capable of giving outstanding images with incredible spatial resolution as well as a motor driven zoom lens and a motor driven filter wheel and feedback lens, allowing you to optimise your image capture using user protocols.
The system is controlled by GeneSys application driven image capture software and comes complete with unlimited copies of GeneTools analysis software.
Features
Gel imaging for fluorescence and visible applications
Spacious darkroom
Image gels up to 30cm x 24cm
5m pixel camera
Resolves close bands and detects nanogram amounts
Motor driven zoom lens and filter wheel
One click set up for easy image capture
Lens Feedback
Optimise image capture by using user protocols
White UV and blue lighting options
Flexibility to image fluorescent and visible stained gels
GeneSys application driven image capture software
Contains extensive database of dyes and imaging protocols. All you need to know is the type of gel you're using and GeneSys automatically selects the optimal lighting and filters to produce the perfect image
GeneTools analysis software (unlimited copies)
Analyse data at your own computer
Specifications
Gel imaging for fluorescence and visible applications
| | G:BOX F3 |
| --- | --- |
| Image resolution (pixels m) | 5 |
| Effective resolution (pixels m) | 15.1 |
| A/D | 12/16 bit |
| Greyscales | 65536 |
| Quantum efficiency @ 425nm | 52% |
| Cooling | None |
| Lens (motor driven) | Zoom f1.2. with lens feedback |
| Filter wheel (7 position motor driven) | Yes |
| UV filter | Yes |
| Use with external PC | Yes |
| Darkroom | |
| Standard | Yes |
| Illumination | |
| Epi LED white lights | Yes |
| Epi UV 302nm | Optional |
| Visible light converter 33 x 31cm | Optional |
| White light pad for visible stains (20 x 14cm) | Optional |
| UltraBright LED blue light transilluminator 20 x 16cm | Optional |
| UV transilluminators | Optional |
| Dimensions | |
| Max image area (cm) | 32.5 x 24.1 |
| Min image area (cm) | 5.6 x 4.2 |
| W x H x D (cm) | 57 x 84 x 45 |
| Weight (kg) | 37 |
| Voltage | 115v/240v |
Our software is compatible with Windows 11*
*In-house testing has revealed no issues with the current version of Windows 11 (22H2 Update Version 22621.1702)
Accessories
Accessories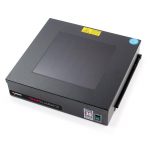 Transilluminators
Syngene offers a range of UV transilluminators suitable for all your imaging needs. Transilluminators are available in 230V 50Hz, 230V 60Hz (-E60), 115V 60Hz (-A), 115V 60Hz (-ACA) and 100V 50/60Hz (-J). Available wavelengths are short wave (254nm, 2020S or 2530S), medium wave (302nm, 2020M or 2530M) and long wave (365nm, 2020L or 2530L).

UltraBright-LED transilluminator
Blue light transilluminators are often used as an alternative to a UV transilluminator when users wish to use 'safe dyes' instead of Ethidium Bromide. A blue light transilluminator is a 'safe' light source, in that the user is not exposed to harmful UV radiation and samples are free from photonicking. The UltraBright-LED transilluminator can be used instead of the UV transilluminator in all Syngene G:BOX systems.
UltraBright-LED transilluminator can be used with gels up to 20 x 16cm for use in the G:BOX series. This model uses side mounted 470nm LED arrays for illumination.

UV-blue light converter screens
These come in two sizes 21cm x 26cm and 25cm x 30cm and are used to change harmful UV into blue light. They are made of scratch resistant plastic and are easy to retrofit onto a UV transilluminator.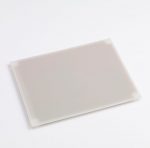 Visible light converter screens
These come in two sizes 30.5cm x 33cm and 23.5cm x 30cm and are used to change UV light into visible light, ideal for imaging Coomassie Blue and Silver Stained gels.

EPI UV
The EPI UV module can be fitted to any G:BOX darkroom (those produced after July 2010). The module fits above the standard LED white light module which is standard on all G:BOX systems. The EPI UV module can have either a 254nm, 365nm or 302nm tube. Either one or two modules can be fitted to each darkroom.

Filters
The filter wheel takes the 72mm range of filters.

Printer
Any printer with appropriate Windows drivers can be attached to the G:BOX F3. We recommend a thermal A6 printer such as Sony or Mitsubishi (P95DW only sold for use with Syngene Gel Documentation units). These USB printers will 'plug and play' with the G:BOX F3 and require minimal setup. They will print hard copies of images in under 5 seconds on long life glossy thermal paper to give photographic quality images.
Thermal paper
Available as Matt or Glossy.
UV tubes
Short wave 8W, 254nm, Medium wave 8W, 302nm, Long wave 8W 365nm available.

IQ/OQ/PQ procedures
More and more laboratories require IQ/OQ/PQ verification these days. Syngene's IQ/OQ/PQ procedures take the user through each step in the verification of a Syngene system in meeting the demands of the laboratory, regulatory compliances and standard operational procedures (SOP). These simple procedures allow the user to verify that a system meets defined installation, quality and performance specifications.
Installation Qualification (IQ)
This verifies that when a system is unpacked it conforms with all purchasing, shipping and unpacking documents. Once this procedure has been followed the system is then ready for the operational check process.
Operational Qualification (OQ)
This procedure establishes if the system meets all the operation and functionality specifications. An operational test is also included at this stage.
Performance Qualification (PQ)
A performance check will establish if the system meets the specification for the nature of the purpose it was intended for. This is verified by using a simple target to establish if the system can meet performance criteria.
Documentation
Each set of IQ/OQ/PQ documents contains a complete set of procedures and checklists for following the verification steps. Included with each 'pack' is a simple calibration device (target image) so that the performance of the system can be checked against the PQ requirements. Each set of documents is unique to a particular system and has to be ordered with the system itself. The document pack has full instructions for use and implementation.
Who does this?
Customer – typically a customer can perform these tests by themselves. Their own internal QC department will be familiar with these processes.
Syngene or its distributors
Trained Syngene personnel or trained distributors can also perform the IQ/OQ/PQ procedures, normally at a nominal charge.
Testimonials
Testimonials
Madam Subha, Lab Manager, Department of Biological Sciences, National University of Singapore, Singapore
"We installed our first Syngene system in 2001 and now have 11 in our research and teaching lab. We use them because, unlike other imagers we have tried, Syngene systems can accurately detect DNA and RNA stained with SYBR® Safe. Syngene systems are quick and easy to set up, which is important as we often have 200 students in our sessions, all of whom need to capture their gel images. The units are very hardy too and our first Syngene system is still working well today, despite being tested to its limits."
"The support we receive from Insta BioAnalytik, Syngene's agents here is great and if we have a problem, they help us to fix it quickly. This is good because with such heavily used systems, we can't afford any downtime. When we need new image analysers, we always look at the latest Syngene one first, as Syngene systems have proved to be perfect for all our different needs."
---
Manager, Allergens & Authenticity Department, Analytical Testing Company, UK
"We test both raw and processed foods and fish using PCR and PCR-RFLP analysis to determine whether they contain other species of fish or meat than the labels state. Because we are running and staining many gels we prefer to use non-toxic SYBR Safe stain so we need a system that can detect DNA stained with this dye at the nanogram level to ensure our tests are sensitive enough. This is why we installed the G:BOX EF in 2008 because it is capable of doing just that."
"The G:BOX EF can detect 20ng of SYBR Safe stained DNA to give us the answers we need to help safeguard the public. I have found the G:BOX EF is very easy to work with because the software guides you through everything you need to do. Even when we had a technical problem, the service we received from Syngene was excellent and we were up and running again in no time, which is very important in a quality testing environment."
---
Mrs Charlotte Jones, Laboratory Manager, Institute of Biological Environmental & Rural Sciences, Aberystwyth University, Wales
"We work on ways of producing clover that can grow and retain their nutrients in more difficult conditions to maintain pastures of these important crops. To analyse specific genes from the new varieties we breed, we needed to visualise small amounts of DNA and RNA stained with GelRed, a stain that is safer, yet not as sensitive as Ethidium Bromide so we had to have an image analyser that could detect this dye. We had used a Syngene system before, which was very reliable and this is why we reviewed a G:BOX EF alongside other imagers for this application."
"We installed our G:BOX EF image analyser in 2009 and have found the system is easy to set up and use and the camera can easily detect the GelRed band images. When we had questions about more advanced procedures on the G:BOX EF system, we found the technical services people at Syngene very easy to talk to and they quickly helped us do everything we wanted to. In short, the G:BOX EF system has proved to be perfect for us to perform safe, sensitive DNA and RNA analysis."
---
Dr Lisa Caproni, Research Scientist, Touchlight Genetics, Leatherhead, UK
"We are a start-up biotech developing new technology in the fast developing DNA therapeutics field. As a small business we need to work quickly and efficiently and rely on equipment that is simple to operate and delivers what we want with high precision. In this respect, G:BOX EF meets all our needs."
"Even though we have only had the G:BOX EF for a very short time, it is now being used to routinely analyse all our DNA and protein gels and its "point and shoot" capability has saved us countless hours. I have worked with several other gel doc systems and I can honestly say the G:BOX EF is one of the best I have used."
---
Dr David Mincher, Reader in Experimental Chemotherapy, Edinburgh Napier University, Edinburgh, Scotland
"We originally installed a GeneGenius system in 1999 and Syngene upgraded this for us to a G:BOX a couple of years ago. This G:BOX is very heavily used and last year we needed another one to cope with the demand. Since our first G:BOX has been very reliable and the support we have had from Syngene has been so fantastic, we had no hesitation in installing a G:BOX chemiluminescence imager as our next system.
Both G:BOX systems are very versatile and we use them in research to image standard DNA gels, gelatin zymograms and autoradiograms and even our final year students find them very easy to use. I would recommend the G:BOX systems to anyone wanting a great image analyser for their molecular biology research."
---
Dr Cynthia Lampert Moore, Laboratory Manager, Department of Biochemistry, University of Cambridge, Cambridge, UK
"We had our GeneGenius upgraded to a G:BOX more than two years ago by Syngene's excellent support team. They were very knowledgeable and were able to talk us through any technical questions we had. The G:BOX is now very heavily used all day, every day for analysing DNA and protein gels and we print over 500 gel images every month. In short, the G:BOX is a gel imaging workhorse that works!"
Guides
Reviews
SelectScience® Reviews